Custom
Some items are just inspired by a moment or for a special request.
I can make a custom item for you based on what is close to your heart.
So, just because you only see guitar picks, arrowheads, turtles, skulls and angels here, don't think those are my only offerings.
I ABSOLUTELY LOVE a challenge. I also love seeing a person receive an item I made just for them.
So, what is dear to you? What best compliments your attitude or energy?
Allow me to make a high quality personal piece for you that will shine for generations.
Above notice the silver skull eye. It is crushed opal with red coral and black onyx. On top of a small pile of crushed opal, I made a ring of red coral stones and put a piece of black onyx for the pupil. This took a lot of patience and quite a long while. The angel has the same opal and is beautifully clear and shimmering.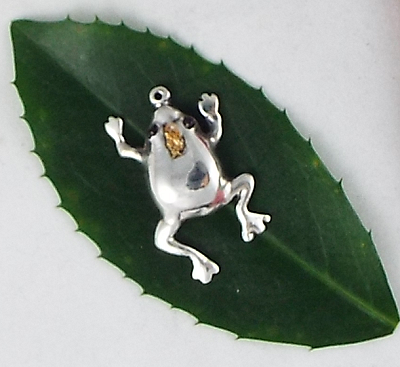 6.1 grams of pure 999 fine silver with gold leaf inlay and black powder coat eyes. My first frog! This one was a custom request and I was challenged as to how to design. "Can you make me a frog" is a pretty broad statement and there are so manyRead More…
.999+ pure silver is just beautiful.
The deep luster and strength make it a great medium to create jewelry and art. I prefer to use ONLY .999+ fine silver when I create a new piece and I pay a premium.
When I stamp .999 on the back of my item, you can rest assured that it is the finest silver available.